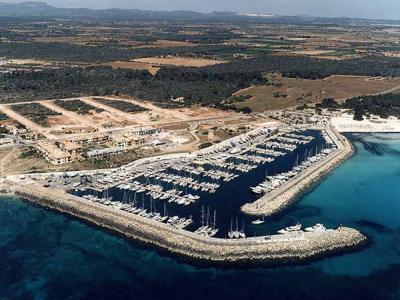 The executive board of IB Ports gave the authorization yesterday for the remodeling of a quay in the yacht club of sa Rápita (municipality of Campos), which will increase the available mooring surface. It also gave green light to the start the process of granting the administrative concession, through public tender, of the premises destined to bar-café-restaurant in the port of Cala Ratjada (Capdepera).
The works in sa Rápita, which will be "executed and paid for entirely by the club", consist of the demolition of a quay of 48 meters and a construction of a new one of 35 meters, along which berths of 4 to 6 meters of length will be substituted by berths of 10 to 12 meters respectively, as the new channels for manouvering between the quays "allow for this". Besides, the navigable channel between the new quay and the harbour wall "will permit in the latter a modification of the length of the first 15 berths from 8 to 10 meters".
With an aim to add various transit berths on the waiting quay, the executive board of the Ports IB informed about an addition of 10 new berths, which are expected to have an average occupation of 70% in June and September, and 90% in July and August.
After the remodeling of the quay the total mooring surface "will increase to more than 580 m2, a 4,40% more than reflected in the act of recognition".
These works and the addition of 10 berths in the waiting quay "mean an increase of attributable fees of 32.650 euros plus VAT for the concession holder".